Whether you are trying to dress up, make a statement, stay in the winter, or keep your feet dry in the rain, we've got you covered.
1. Riding Boots - This style boot is particularly useful on days when you are wearing very snug fitting pants, so that they can be worn on the outside of the pant leg very easily. Known to horse riders as Riding Boots, this style boot will provide some of the most comfortable boots for narrow calves, and they look great on, too. Riding Boots come in assorted styles, with buckles, zippers, laces, and straps. Or, if you prefer a straight pull on boot, there are styles to accommodate that as well. Lace up riding boots tend to give a custom fit, since you can lace them all the way up the calf, allowing a more tailored fit for your build. Some of the more popular Brands of Riding Boots are Style & Co. Vedaa Boots, Style & Co. Lolah Boots, G by GUESS Hailee Riding Boots, Karen Scott Deliee Riding Boots, and Material Girl Capri Riding Boots.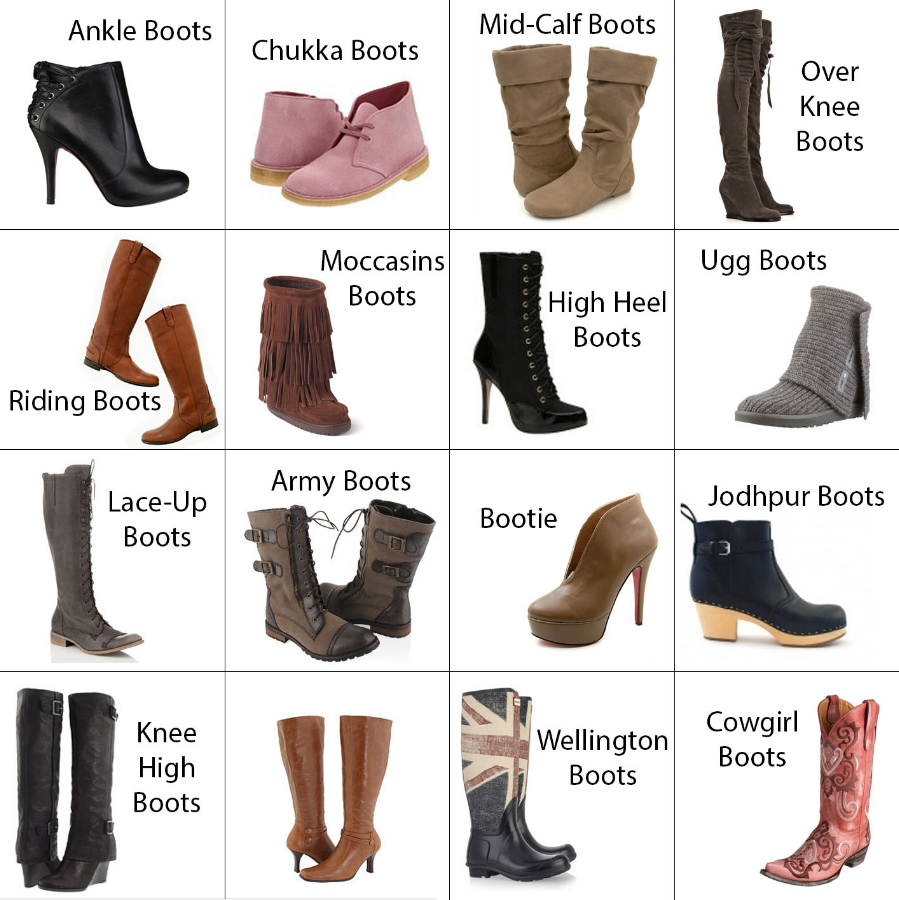 2. Thigh High Boots - A must have style for boot lovers, thigh high boots, or "over the knee boot" are said to look the best with high waist, skinny jeans, or maybe even an A-line button down skirt, bell sleeve crop top, with a cute hat. These boots go great with leggings and capris as well. This sassy style boot is worn for a bolder look, and sure to make a statement when you enter the room. I think the Madden Girl Prissley Over-The-Knee Tassel Stretch Boots are adorable and very well priced, and the New Vince Camuto Felana Over-The-Knee Lace-Up Block-Heel Boots are fine to say the least, and worth what they go for. With winter coming up, it is the perfect time to try a pair, and have a add a new favorite to the list!
3. High Heel Boots - Widely known as the sexiest boot, high heel boots are also said to be very classy, and "the best" boot for a night out. Layer your various garments at different lengths to take a normal night out in to **stunning** with your high heel ankle boots, or drop jaws all over town with your Thalia Sodi Eeva Lace-Up Gladiator Boots. The good thing about heel boots, is they are perfect for everything. Work, play, walks through the shops downtown, or going to your favorite coffee spot with your BFF. MICHAEL Michael Kors Fawn Stiletto Ankle Booties are simple, and an attention getter. Very good value for the price and they are built well, as all Michael Kors are.
4. Wedge Boots - Another must have in your collection, wedge heeled boots are acclaimed for dressing up with a mini mimi-skirt, or adding a completely irresistible look to a midi-dress, with a cardigan layered on top. But then again, if you can score a pair of these Mojo Moxy Nighthawk Fringe Wedge Boots Nighthawk Fringe Wedge Boots from your you know who for Christmas you will probably want to show them off with a variety of styles. I'm sure you know already that any boots go good in warmer weather with dome denim shorts.
5. Faux Fur Boots - These are an all-time favorite of many, keeping your feet or even feet and legs warm during the colder months, depending on what your draw to in terms of style. Spark peoples interest with your GUESS Women's Hadly Lace-Up Cold Weather Boots, that are designed to keep your whole calk and foot warm, and be a compliment to any look. This particular boot goes great with jackets and sweaters, and is said by the Guess team to have a "cozy and glamorous look". These New Muk Luks Women's Amira Faux-Fur Boot Slippers are perfect if you just need to run to the store, and they're just "too cute" to wear out.
6. Low Heel Boots - Very versatile and forgivable beyond measure if you ask just about anyone, they most likely have a pair or have had a pair that is a favorite. Be comfortable and warm this winter with something like the Sporto Charley Cold-Weather Boots, or demand attention with your CLARKS Artisan Avington Hayes Cold-Weather Boots. The latter being my favorite!
7. Rain Boots - Must have for collectors, and a necessity for rainy seasons, you can keep your feet snug as a bug, and dry in rainy boots, especially if you know how to pick the COACH Tristee Rainboots are the perfect method for killing any atmospherically aggressive cold temps, or rainy days. They are a known best seller, and stunning at the same time. if you just want to keep your feet dry, the Sporto Pamela Waterproof Duck Booties are a HOT item, and they're appropriately named. I think the name is so cute!
8. Chunky Heel Boots - I think these go great with plaids and paisleys, as well as blue jeans for a more casual look, or during the winter, some leggings and leather with these for a bold look. Chunky Heel boots offer more support, more comfort, and will add dimension and sass to any outfit. For the outdoorsy types, the Steve Madden Women's Troopa Combat Boots are a sure way to finish first, while the Marc Fisher Escape Tall Boots will steal the show on a night out, and know just what to say.
9. Hardware Boots - So broadly stated that they resonate through almost genre of fashion, the Hardware-style boot is a win-win situation in any case, adding both sass, class, and mystique to almost anything you want to wear with them. There's your classic build Vince Camuto Whynn Quilted Moto Booties, or for a more devastating addition to your collection, check the Nine West Topple Hardware Pointed Booties. I hope you enjoyed my article, have a great winter!
TIP : Wearing black pant with black boots is said to elongate the body, and add dimension to any outfit.